Our Vision
Ed Walker had a vision. It was, simply, to build the best fine art bronze casting foundry on the East Coast. It started in his first sculpture class at East Carolina University when his professor challenged each student to design their dream studio. Though it took him twenty three years, the foundry he built in 1995 in Seagrove, NC closely modeled that initial design.
His vision didn't end there. After walking over the 55 acres where the foundry is now located, he knew that one day he would build a large pond and create a sculpture garden around its banks. In addition, he constructed the building with a southern exposure and the proper roofline so he could install solar panels in the future.
Today, Ed's vision belongs to all of us. From our uncompromising customer service, our guarantee of the highest quality possible, our dedication to lowering our carbon footprint, our pledge to community involvement and job creation, and our vow to make our product in the USA, the staff here at Carolina Bronze Sculpture Garden and Foundry is committed to moving that vision forward because "we make history here".
Meet the Owners
With over 90 years of art experience between them, Ed and Melissa Walker have the creative vision to make this sculpture park a reality. Their wish is to share their love of sculpture and the beauty of the local  landscape in a way that educates and inspires visitors about large scale sculpture in a beautiful natural setting and to pursue sales of the sculpture featured in the park and on the website to collectors, businesses, developers and municipalities.
Ed Walker has been creating sculpture since his graduation from East Carolina University in 1976 and the University of North Dakota, Grand Forks in 1979. After teaching sculpture at Tulane University and starting his own foundry in New Orleans, Ed returned to his home state in 1990 and founded Carolina Bronze Sculpture. Ed continues to make time for his own sculpture practice while continuing to provide foundry services for customers from all over the country.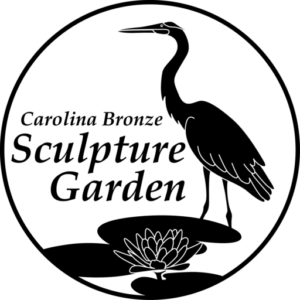 Melissa Walker is an award winning artist and art educator. After graduating from East Carolina University with a BS and the University of North Dakota, Grand Forks with an MA, she spent 10 years in the picture framing industry and doing art research. After returning to NC in 1990, she started teaching high school art, retiring after 25 years in 2014. She is now the Marketing Director at Carolina Bronze Sculpture and oversees all aspects of the sculpture garden.